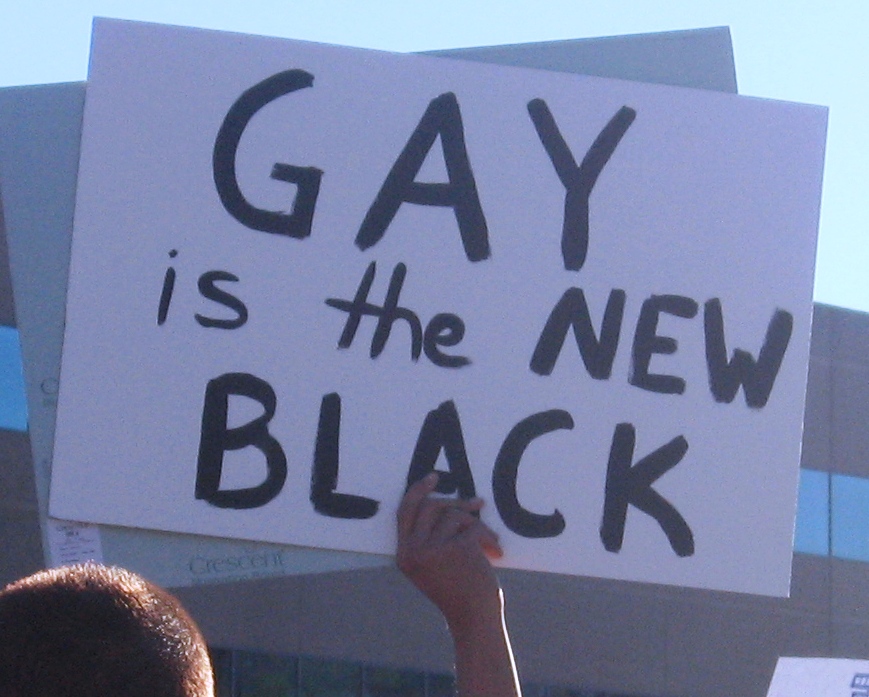 I still shake my head a little today as I reflect upon the idealistic naivete of my youth.  As early as age five, I was well aware that the human world is not characterized by equality and fairness.  But, I was in my early twenties by the time I realized that marginalized communities themselves are also home to prejudice and discrimination.  It is disheartening, but very realistic, to say that marginalized communities are not immune to the norms, values, stereotypes, stigmas, and oppressive practices of the dominant society.
Internalizing Dominant Society's Values
Although there are numerous harmful and oppressive values that marginalized communities inherit from the larger, dominant society, I find one most depressing: internalized prejudice.  In a fiercely racist, sexist, homophobic, transphobic, classist, xenophobic, ableist, ageist, and fatphobic society like the United States, it is an inevitable reality that members of disadvantaged communities must fight daily against stigma, stereotypes, prejudice, and discrimination directed at them.  Given the pervasiveness of these oppressive beliefs and actions, it almost seems impossible to keep oneself completely immune to internalized prejudice.  Such an unfortunately reality ranges from things that seem mundane like hair relaxers for Black women to more invasive plastic surgery for Asian women to physically alter their eyes, in both cases, for some people, to look more white or European.  It ranges from queer people "toning down" their presumable gender non-conformity, which is often associated with homosexuality, to undergoing "treatment" to change one's sexual orientation to heterosexual.  [As an aside, I do note that another factor that influences some of these thoughts and actions is one's perceived need to "fit in" to avoid the risk of facing discrimination and violence.]
In that marginalized groups are not completely immune to the dominant society's oppressive beliefs and actions directed at them, it is unsurprising that such communities are also home to other forms of oppression.  Some might assume that, given a marginalized community's exposure to societal prejudice, discrimination, and harassment, the community would undoubtedly be sympathetic to the plight of other marginalized communities.  But, others may not be so optimistic.  There are numerous examples of various forms of societal oppression within oppressed communities: fatphobia, obsession with beauty, and eating disorders among queer men; biphobia in queer communities; homophobia in communities of color; homophobia and transphobia among women, even feminists; and so forth.  Some coalitions among marginalized communities have been successful.  Yet, sadly, these communities sometimes conflict with one another, oftentimes as the result of some more powerful group pitting them against one another in a strategy called "divide and conquer."
Minority Among Minorities, Outsider Among Outsiders
The internalization of the oppressive beliefs and actions of the dominant society by marginalized groups is harmful.  But, individuals who are multiply disadvantaged are harmed even more by these internalized oppressions.  Take the example of racism within lesbian, gay, bisexual, transgender (LGBT) and queer communities.  There is a documented history of the invisibility, yet exotification, and subordinate status of people of color within LGBT and queer communities and social movements.  In years past, Black patrons of gay bars were asked for three or more forms of identification — a tactic used to minimize their presence in such establishments — while white patrons were only asked for one or two, if any.  Today, LGBT and queer communities continue to wrestle with the problem of conflating queerness with whiteness (and maleness and middle-classness and able-bodiedness and thinness and …).  That is, the face of gay is usually one of a white, middle-class gender-conforming "normative" man.  Even our recollections of LGBT and queer history make invisible people of color and their contributions to LGBT and queer movements.
In addition to being invisible and subordinate in one community, multiply disadvantaged people are similarly invisible and subordinate in their other communities.  Queer people of color, invisible yet exotified among queer people, are conditionally accepted in their respective racial and ethnic communities so long as they make invisible their sexuality and/or gender identity.  For, as some experience the world, one cannot simultaneously be queer and brown.  Or one's membership in another marginalized community is of secondary importance or entirely unimportant, or one may risk being pressured to choose one's primary allegiance.  As such, multiply disadvantaged individuals face additional burdens.  They face the burden of the prejudice and discrimination associated with each of their disadvantaged statuses, as well as the prejudice and discrimination within each marginalized community (e.g., racism and homophobia in the dominant society, racism in LGBT communities, homophobia in communities of color).
A Call For Coalition-Building, A Call For Collective Consciousness-Raising
Much of what I have discussed thus far is difficult.  It is difficult, at first, to become fully aware of the systemic oppression one faces as a member of a marginalized group.  Many of us fail to see oppressive beliefs and actions in those around us, and thus conclude that we are not victims of prejudice and discrimination.  It is harder to see the ways that race and ethnicity, gender, sexuality, class, ability, age, body shape and size, and nativity operate as systems that shape so much of our society, our laws and policies, our relationships, our interactions with others, our beliefs, and even our sense of self.  Just as it is difficult to see how our communities internalize the norms, values, and practices against ourselves of the larger society, it is difficult to see how we internalize other forms of oppression.
Coalition-building and collective consciousness-raising are vital steps that marginalized communities must take to fight as a united front against oppression, inequality, and violence.  To be a marginalized community is to be relatively powerless, poor, disenfranchised, divided, isolated, and invisible, so it is, indeed, difficult for any one marginalized community to combat the prejudice, discrimination, and violence it faces alone.  The banding together of several communities offers the potential of pooling resources, energy, and ideas — and, importantly, it accounts for the fact that many individuals are already members of two or more of these communities.
But, to reach this step in alliance building, marginalized communities must achieve two steps.  First, they must raise consciousnesses about their own community's marginalization in society (known as "consciousness raising," a practice used by second wave feminists).  Then, they must raise consciousnesses about other forms of oppression that pervade their community, and identify overlap between their own oppression in society with those of other marginalized communities.  Indeed, there are a number of issues, concerns, and needs that are unique to each marginalized community (e.g., marriage equality for same-gender couples, immigration reform).  Yet, there are issues that are shared by more than one community (e.g., health care, voting rights, pay equality).  And, further, marginalized communities must acknowledge that some of its members are affected by issues seen as unique to another community (e.g., marriage and citizenship rights for bi-nationality same-gender couples).  It is the case, in a number of ways, that a community's most disadvantaged members are disproportionately affected by oppression; thus, to achieve full equality for all of its members, each community must combat each interconnected form of oppression that pervades our society.