What image comes to mind when you hear the term "terrorist"?  I can imagine most Americans think of something like the images that a quick Google search yields:
Right now, these are the kinds of images that predominate US discourse on terrorism, particularly after the terrorists attacks in NYC, DC, and PA on September 11, 2001.  Before that, this was the image of terrorism, at least in my mind:
That of domestic terrorist, Timothy McVeigh – a white supremacists.  As a nation, we are more fixated on the threat posed by those pictured in the first image — those people in that country.  Our fear of terrorism is used as justification for our xenophobic prejudice toward nations outside of the West.  Arguably, it also undergirds the vehement anti-immigration sentiment, now that "immigrant" has become synonymous with "Hispanic," "Latino," "Mexican," and "illegal."
For the oppressed members of the US — people of color, women, lesbian, gay, bisexual, and trans* (LGBT) people, religious minorities, and immigrants in particular — terrorism exists daily within our borders.  Defining terrorism simply as a systematic effort to evoke fear and terror in another group, oppressed groups experience both violence and the threat of violence (i.e., terrorism).  In addition to the daily microaggressions and discrimination, these marginalized groups are kept in "their place" through violence and terrorism.
Power And Defining Violence
Continuing to gobble up every idea in sociologist Patricia Hill Collins's book, On Intellectual Activism, I got the encouragement I needed to write this post, which I have been contemplating for some time.  She has a chapter, "The Ethos of Violence," in which she argues that violence is not a given phenomenon.  Rather, it is socially constructed, wherein its meaning is taken from its historical and social context.  But, as I usually do when drawing upon a social constructionist perspective, I echo her argument that the power to define socially is not shared equally.  Rather, dominant social groups hold the power to define violence.  Whites, the middle- and upper-classes, men, heterosexuals, US-born citizens, and so on define violence.
Take the unfortunate example of the shooting in an elementary school in Connecticut.  It would be unimaginable to think anyone would dispute that this was a tragedy — yes, even one that warrants the overdue changes to gun control laws in the US.  But, as some pointed out, that kind of rare tragedy in middle-class white America garners great national attention, while everyday violence in urban, poor, and Black and Latin/o neighborhoods rarely get attention.  As Collins's points out, these events, though more common, are not treated as noteworthy violence because they do not directly affect the privileged members of America.  In fact, such violence is treated as something to be routinely expected of the inferior classes of people who are stereotyped as natural savages.
Look at the intense political battles against protections from discrimination and violence for women, trans* people, people of color, and lesbian, gay, and bisexual people.  It is difficult to fathom how one could oppose protection from violence.  But, men, cisgender people, heterosexuals, the wealthy, and whites are shielded from violence.  As a part of their privilege, they neither witness nor experience violence enacted toward them because of their status.
Oppression As Terrorism
Collins also notes that, in addition to the violence enacted against oppressed people, they are also terrorized by the threat of such violence.
The routine nature of violence is highly significant in maintaining the social control needed for social inequalities to be seen as natural, normal, and inevitable.  The significance of violence goes much deeper than the small number of visible violent acts that actually occur in relation to the size of the American population as well as the interpretive climate needed to define it.   Rather, the threat of violence constitutes a powerful tool of social control.  For example, women who monitor what they wear, where they walk and with whom, and the time of day they appear in public places adjust their behavior in response to the fear of violence against them.  Women do not have total access to the streets because these spaces remain coded as male spaces, at least most of the time.  A particular woman need not be raped to know that some streets are always dangerous or that all streets are sometimes dangerous.  The fear of physical and sexual assault is sufficient to keep her in her place.
In the above quote, Collins points out that, while at least one-quarter of women experience actual sexual violence, they and the remaining 75 percent of women are plagued by the threat of sexual (and other forms of) violence.  That sexual violence affects women such that they live in fear and adjust their behaviors to minimize their vulnerability and this fear constitutes a form of terrorism.  And, that seemingly isolated acts serve to threaten and disempower an entire marginalized group (women), rape and sexual assault constitutes a type of hate crime.
In a forthcoming article in Journal of Homosexuality, considering the intersections among race and ethnicity, gender, and sexual orientation, Doug Meyer and I found that white men and heterosexual men (the sample was too small to consider all three identities simultaneously) were the only groups wherein fewer than half (~30 percent) reported being afraid to walk alone at night within 1 mile of their own homes.  All women, regardless of race, ethnicity, and sexual orientation, Black and Latino men, and sexual minority men had comparable percentages of those who said they felt such fear (between 70-80 percent).  These patterns held even as we accounted for their prior experiences of robbery or other crimes.
Marginalized groups have real reason to live in fear.  The rates of documented acts of violence are high — just imagine what the rates would look like if most acts of violence were actually reported.  And, think about the costs of the fear that most members of marginalized groups experience.  This fear and the efforts one may take to protect oneself from violence can mean watching every aspect of your behavior, remaining vigilant and in a heightened state of arousal when walking alone, being wary of strangers of privileged groups, staying away from certain parts of town, or forgoing certain activities all together.  For myself, as my partner and I visit Richmond next week to search for a place to live, I have such concerns weighing on my mind; where will we feel safe as an interracial queer couple?
Given their privilege, whites, men, cisgender people, heterosexuals, those born in the US, and the wealthy do not have to experience nor think about violence and the fear of violence.  Beyond that, they do not have to acknowledge or validate the fear experienced by members of oppressed groups.  Further, they have the power to subvert our claims of violence, either as isolated acts that are not motivated by hate (rather than systemic violence and terrorism) or even as something victims brought on themselves.  Maybe it was the short skirt she was wearing.  Maybe it was the hoodie he was wearing.  Maybe he flirted with the guy.  Maybe she "lied" about her sex-assigned-at-birth.
Terrorism And The State
What complicates this further is that the state, which proclaims to protect all Americans, is implicated in violence against the oppressed.  Laws on the books are either selectively or weakly enforced.  Proposed laws to protect marginalized groups from violence are somehow characterized as a threat to privileged groups.  And, too often, the state itself enacts violence (e.g., police brutality, injustice in the criminal justice system, forced sterilization, interment, enslavement, raids).  Who protects us when even our protectors enact violence against us or fails to intervene when others attack us?
How quickly we developed national efforts to guard against terrorism (and protect our national borders from "illegals") — of course, that is when dominant groups come under threat.  There has never been a Homeland Security to protect against racism, sexism, heterosexism, cissexism.  The oppressed are on their own for that.  Ironically, it seems that when the state moves to protect all Americans, the oppressed become suspects.  Anyone with brown skin can be searched and demanded for their "papers."  Transgender and gender non-conforming people are subjected to additional screening through TSA security checks at airports.  But, c'mon — this is in the name of security for all!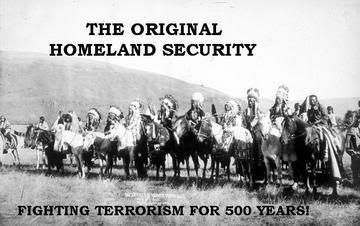 Another Irony Of Oppression
Something akin to the "double bind" or "dual-edged sword" that oppressed people face — the sense that you are "damned if you do and damned if you don't" — is a sense of irony about systems of oppression.  A good example of the "double bind" for women is the reality that they are penalized for being feminine in a masculinist society, but then punished if they are "too masculine" — something that, in overly simplistic pragmatic terms — would make sense to get ahead in life.  But, what I find more ironic is a twist on certain aspects of oppression.
In particular, I find it ironic that members of oppressed groups face everyday threats of violence, discrimination, and subtler expressions of hatred, yet are characterized as a threat to dominant society.  People of color are subject to violence by, yet are portrayed as violent to, white America.  Gay men, in particular, are frequent targets of homophobic violence and discrimination by, yet are characterized as threatening to, heterosexual men.  Women, if given the power to control anything (even their own bodies!), are seen as a threat to the livelihood of the nation.
There is an exchange in the 2007 movie version of the play, Hairspray, that sticks out in my memory:
Seaweed: "And this young lady right here is Penny Pingleton."
Penny: "I'm very pleased and scared to be here."
Motormouth Maybelle: "Now, honey, we got more reason to be scared on your street."
Concluding Thoughts
I suppose the take-away points of this post could be: 1) calling for better attention to collective understandings of violence and terrorism, which erase the ways in which oppressed people are attacked and terrorized daily; and 2) calling for real, sustained efforts to account for, outlaw, and remedy the vast amount of violence that routinely occurs against marginalized groups.
This should entail, as Collins points out, better understanding violence at the intersection of systems of oppression, including the heightened risk of violence among those who belong to multiple oppressed groups (especially women and LGBT people of color and poor LGBT people and women).  For, even within our own communities, we face violence.  Yet, for some reason, many members of privileged groups continue to dismiss our efforts protect ourselves from discrimination and violence — basic, fundamental rights — as "special rights."