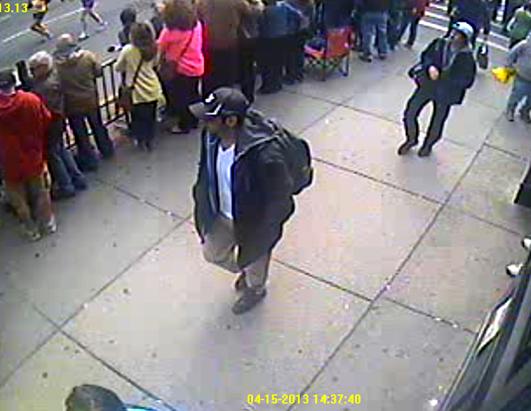 When I first heard the news about the bombings, I felt what most of the US felt: "Oh, no!  That is tragic."  Grief for the families.  Curiosity about who did it and why.  And, concern for what this means for the country moving forward.
Then, as the media began speculating about who the suspects are, I lost interest.  I still feel the same ache in my heart for the victims and their families, and the city of Boston as a whole.  But, I was not glued to my television, computer, or Twitter account any longer.
It was in talking with my parents about the bombings that I realized why.  The speculation quickly dissolved into the guessing game regarding the suspects' race, ethnicity, nationality, and religion.  We tried to figure out why these characteristics matter.  Ah — America needs a scapegoat.
It Doesn't Matter
"Please don't let it be a Muslim!"  "They hardly look dark-skinned to me."  The media and the rest of the country became obsessed.  For members of demonized groups, the suspects' background matter because of what may come.  If this turned out to be a repeat of the September 11, 2001 terrorist attacks, the US might again overflow with racism, xenophobia, and Islamophobia.  If the suspects were Black, America might wave it's finger and exclaim, "see, I told you Blacks are violent criminals!"
One aspect of being a stigmatized group is being treated as an indistinguishable mass.  The actions of one Latino man are treated as further proof that all Latina/os do that same act.  But, the suspects' white racial identity end up saying nothing about whites as a group.  They are seen as individuals who acted independent of group interests or dispositions.  In fact, now that so much attention has highlighted on this double standard, efforts are being made to recast the suspects as off-white or something else all together.  We must preserve the purity of whiteness!
But, sadly, the suspects' background actually changes nothing.  Muslims are still stereotyped as terrorists.  Black people are still stereotyped as being prone to violence and crime.  Latina/os are still stereotyped as "illegal" immigrants.  And "white people" are still comprised of unique individuals.
It Does Matter
Prejudice is a funny thing.  It is stubborn and rash.  If there were a group of people who deeply hated the color blue, they would insist that the sky is red.  Or, they might even say that they don't see color.
Even with pictures of the two identified bombing suspects, mainstream America persisted in making this tragedy a case about international affairs, race, immigration, and religious-based terrorism.  The suspects were described in ways that either heightened the importance of race or twisted the reality of their racial and ethnic background.  Innocent bystanders and even victims with brown skin were identified by the media as possible suspects.  Some in congress have made this an issue about immigration.
The slightest infraction, then, serves to justify further demonizing immigrants, racial and ethnic minorities, and religious minorities.  Even feminists and LGBT people have been named as possible scapegoats.  Yet, this case reminds us that infractions can be created even when they do not exist.  These white suspects have given further justification for racism and xenophobia.  Huh?
And, yet again, terrorist acts are being used to terrorize minorities, ironically indiscriminately.  Any person with the slightest shade of brown skin could be subject to harassment and discrimination.  Racist and xenophobic America once again has an excuse to terrorize the minorities.
We Got 'Em!  A Cause For Celebration
With the apprehension of the second of the two suspects after a prolonged search, Boston and much of the rest of America breathed a sigh of relief.  We got 'em!  Pictures of people waving American flags and singing the national anthem filled my Twitter feed.  Yes, the capture of two young adult men who terrorized a major US city was certainly a cause for patriotic celebration.
Indeed, for some, this was the first major terror attack since the 9/11 attacks.  Huh?  Either we really do lack a consensus on what counts as "terrorism," or mainstream America has a bad case of amnesia.  Or, maybe it's just selective amnesia:
The legal, academic, and dominant cultural definitions of terrorism aside, there have been many violent attacks before and since the 9/11 attacks — acts which serve to create terror.  I am hesitant to believe that the US faces any more or less terrorism than in the past.
Beyond that,  I felt relief when the second suspect was caught, but "Ohhhh, sayyyy cannn youuuu seeeeee" was not flowing out of my mouth for two major reasons.  First, the Boston bombings do not seem all that extraordinary to me.  Look again at the (incomplete) lists of terrorist attacks that came to mind.  Such big acts of violence actually seem like a pretty regular part of life in America.  We certainly have it good (in terms of safety) compared to places where bombings are a regular occurrence.  But, for places in the US that are entrenched with regular crime and violence, I have to wonder if they were phased by the Boston bombings.  (I bet their entire city is not shut down for the frequent "manhunts" for violent criminals.)
Second, I do not feel any more or less free from terrorism following the closure to the Boston case.  The Boston bombings were just a different kind of terrorism for me.  They serve as an act that supplement the regular vulnerability to being terrorized as a brown queer person in a racist, sexist, heterosexist, and classist country.  Whether I am truly an American remains questioned, my status as a citizen is still not fully realized, and I am no more protected from violence and discrimination.  In fact, these events sparked greater possible threat to my safety and rights.
Concluding Thoughts
Sadly, that what is at stake for this case depends upon the race, ethnicity, nationality, and religion of the terrorist behind the bombings in Boston tells us that America still has a race problem.  The sense of dread that members of demonized groups felt that the suspects may be "one of their own" highlights the ease with which stereotypes are considered confirmed.  Minority groups are treated as a monolithic mass, while privileged groups continue to enjoy the luxury of individuality.  Where ever there is uncertainty, or room for doubt or speculation, mainstream America's prejudices fill in the gaps, standing in as facts.  Such prejudices are so strong that they will not only create truths, but also alter or completely counter evidence that says otherwise.
Let's look at America before the bombings and, now, today as the case comes to a close.  Nothing has changed.  The country still suffers from racism and xenophobia.  It's just using a new excuse to terrorize its scapegoats: "you made me do this to you."