Home » Posts tagged 'Sexual Orientation'
Tag Archives:
Sexual Orientation
I'm (not) sorry, but can we hold up on celebrating every white straight cisgender man who does anything minimally non-homophobic/biphobic/transphobic?  I appreciate these efforts.  And, I recognize the work of some as anti-homophobic, anti-biphobic, and/or anti-transphobic activism (you know, because not being a bigot is not the same thing as being an ally or advocate).  In my opinion, they should be doing this, and giving a cookie to every self-proclaimed ally reinforces the message that bigotry is just a few bad apples and justice can be achieved through a few noteworthy, but infrequent acts.
Beyond that, I find that queer people do not get enough credit for existing, daring to be visible, authentic, happy.  Coming out.  Refusing to hide.  Refusing to conform.  Refusing to resign themselves to a miserable, invisible, inauthentic existence.  Refusing to tolerate the status quo.  Refusing to be excluded from important social and political institutions. Who could ever imagine a day that lawsuits are filed in the country's most conservative states to force them to get up to speed with federal recognition of same-gender couples?  Even in the face of opposition that has demonized queer people as promiscuous, drug-abusers, pedophiles, non-monogamous, and perverts, queer people have demanded to have their relationships recognized and celebrated.
We're here, we're queer, get used to it.  Straight, cisgender people, get used to it!  That is some brave, bold shit.
Oh, but it takes a lot to be so brave.  Individual queer people are worn out from the daily toll of being out (or not) or making that negotiation minute by minute.  Our relationships are tested as we navigate another, unexpected layer of the closet: queer love and sex.  Do we embark on the war with our intolerant families?  How do we navigate our communities?  How do we navigate the law and institutions?  All while not really seeing ourselves, seeing others like us, in public and the media.  All while, at best, being tolerated but never fully accepted.
Sometimes, the well runs dry.  Sometimes, it is easier to give it up — accept our second-class citizenship.  The opposition can be so fierce that you begin to wonder why you fight — maybe you are asking for too much, too soon.  Maybe you are naive to hope for better.  Maybe you are even greedy for wanting equality in an unequal world.  Maybe you should concede to the world's desire to make you disappear.
Fuck.  That.  Noise.
My activism is not radical unless staying alive is radical.  It is radical if equality is radical.  We have got to fight — all of the time — so we can stop fighting.  When one of us gets weary, another one should step up to carry on, and another to support the both of them.  By continuously fighting, we carry on the legacy of those who fought before us, and improve the opportunities for future generations.  It is not a war we started, but it is one we will have to win in order to survive.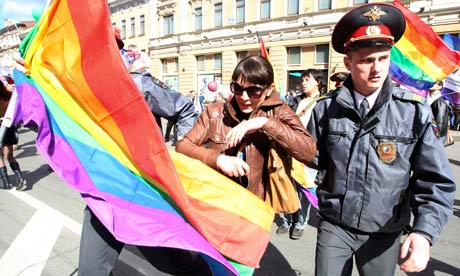 So, I am celebrating queer warriors — all of them.  And, I am honoring the fallen.  Fight on.  Thanks to our heterosexual and cisgender supporters and allies; keep fighting on, but celebrate the victories for queer justice — not yourselves.
With the start of Women's, Womyn's, and Womanist Herstory Month this past Friday, I have been wondering what more I can do to challenge sexism — including my own.  As I have noted in previous posts, I have an evolving awareness that my own disadvantaged social location as a brown queer man does not make me immune to sexism, nor any other system of oppression.
One important task of my anti-sexist advocacy is to become aware of the ways in which I am privileged as a man.  I know this to be a particular challenge for queer men because of our awareness that we are disadvantaged among men.  So, I was disappointed to find little beyond a few personal reflections from feminist-identified gay men to guide me and other queer men to understand and appropriately fight sexism.  The Guy's Guide to Feminism seems like a good start, but I find it useful to engage gay men from their unique relationships with sexism, women, and male privilege.
Feminism For Gay Men 101
Though I am just at the beginning of a lifelong journey to understanding sexism and my own male privilege, here are a few lessons I would like to impart to my fellow gay men:
We are men.  We hold male privilege.  Period.
Yes, number 1 is true despite our sexual orientation and despite our gender expression (no matter how feminine, androgynous, or queer).  Though gay masculinity is devalued relative to hegemonic masculinity (i.e., white heterosexual middle-class able-bodied young/middle-age masculinity), it is still privileged over all femininities.
Systems of oppression are linked including — particularly relevant to this discussion — sexism, heterosexism, and cissexism.  As such, our liberation is tied to the liberation of ciswomen and trans* people.
While number 3 is true, we are not immune to sexist attitudes and behaviors.  And, most importantly, being gay does not make us anti-sexist.  Our marginalized status among men may make it easier to understand sexist oppression, but it does does not preclude us from it.  Just like heterosexual cisgender men who engage in anti-sexist activism, we must be active in challenging the prejudice, discrimination, and violence against women, and to keep our male privilege in check (i.e., give it up or use it for good).
Though we generally are not sexually attracted to women, we are just as capable of sexually harassing or assaulting women.  The root of sexual violence is power, not sexual attraction.  I must point out here that too many of us have sexually harassed or assaulted women and naively excused the behavior as innocent because we are gay.  Sexual violence by any perpetrator is wrong.  But, that of gay men has the added element of placing our women friends and allies in the difficult position of questioning whether to feel violated or upset.
Related to number 5, we must stop treating the women in our lives as objects or accessories.  Yes, many heterosexual women are guilty of doing this to us — the gay BFF, every girl's must have! — which is also wrong.  Friendships that exist because of her gender or your sexual orientation are forms of exotification.
Attraction to male-bodied individuals, men, and masculinity must be stripped of the presumed aversion to female-bodied individuals, women, and femininity.  We need not be repulsed by female bodies just because we are not sexually attracted to (cis)women.  Even when joking, this is no less problematic than (cisgender) heterosexuals who proclaim to be repulsed by people of their same sex.
Certain aspects of gay men's culture that promote pride and empowerment among us come at the expense of women's empowerment.  To call a fellow gay man "bitch," "cunt," and, more commonly in the drag scene, "fish," is to use a term that derogates women.  Though they may be positive in intent and meaning, these are not instances of reclaiming pejorative terms used against us: self-identifying as queer is; "servin' up fish!" isn't.  Just think how outraged we would be if women decided to adopt "faggot" as a term of endearment among themselves.
Our queer, bisexual, and lesbian sisters are oppressed by heterosexism and sexism.  We, as LGBT and queer people, will not be fully liberated by addressing homophobia and heterosexism alone.
Related to number 9, we must recognize that LBQ women are often subject to our sexist prejudice and behavior, ranging from anti-lesbian jokes to outright exclusion (often disguised as innocently bonding with other gay men or even the product of our exclusive attraction to men).
The way that we devalue femininity among ourselves is another arm of sexism.  The "no femmes" sentiment, aptly called femmephobia, is nothing more than the hatred of femininity, which is associated with women.  Beyond eliminating this silly prejudice in our anti-sexist efforts, we do ourselves the favor of freeing the constraints on how we can behave and express our gender.
We owe it — yes, we owe it — to the ciswomen and trans* people who have fought against the injustices we face to fight against those they face.  Even when kept at the periphery or outright excluded, transpeople have fought for equal rights and status for lesbian, gay, and bisexual people. Many lesbian and bisexual women served as caregivers to gay and bisexual men with HIV/AIDS during the 1980s and 1990s, while also fighting along side those who worked for better HIV/AIDS health care.  Feminists of all walks of life have advocated for our protection from prejudice, discrimination, and violence, seeing it as important in (and linked to) activism against sexist discrimination and violence against women.
We owe it to our ciswomen and trans* friends and allies — and ourselves — to be better feminists.
No, as the title might suggest, this is not a post about a party I had to celebrate the seventh anniversary of coming out of the closet, embracing and publicly announcing my (now) queer sexual identity.  Though it has now been seven years since I first told another soul other than my own, I want to share the experience of another, yet equally important and memorable event.
A friend of mine recently came out to his family, to which he received a less than positive reaction.  Given that I knew that I would be in town, I decided to check with my parents to see if they would be interested in having dinner with him and me.  It might sound a little strange, but my intention was to give him living proof that parents who may initially not react favorably to their child coming out can, with time, arrive at near-total acceptance.  My parents initially said yes, but with a touch of humor that made me wonder whether they were agreeing to do so only to appease me.  I did not get much more from my father, which is not unusual for him (a man of few words on emotional matters), but my mother later sent me a reassuring email, complaining that she found it unfair that LGBT children continue to have to deal with negative reactions from parents.
We met for dinner last week, everyone except for me (because I was on spring break) still in work attire.  The first twenty minutes or so were a tad awkward with obligatory questions about how my friend and I know each other, where everyone works, where everyone is from.  But, then the elephant in the room was finally addressed – let's talk about coming out and parents' reactions.  I was confident that my parents would have positive things to share with my friend, but I had no idea just how honest and positive their stories would be.  Both my father and mother talked about what shifted them from an initial negative reaction (why did this happen?  who is at fault?  what could we have done differently?) to one of acceptance.  The primary force responsible for this shift was their recognition that I was successful in my career (still in college at the time) and continue to be, and that I decided to accept and admit to them my sexual identity to be happy.
What came as the biggest surprise to me, they recounted things that have happened along the way over the last seven years that reflected back my own experience with those same events.  For example, my mom noted the time she and my father sat in our family room (a room we hardly use) in the dark, with her consoling my crying father (who, at that point, had only cried twice in his adult life – the other time being when my grandmother died.)  She highlighted how it appeared as though they were grieving my death.  This is exactly how I recall the event, so it was quite surprising and validating to hear that she experienced the event in the same way.  Finally, what I became aware of through their individual journeys to accepting me as I am is that it seemed that most of the work to reaching acceptance was within themselves.  For all of the battles over choice of sexual orientation, what I am doing, who I am sleeping with, what groups I belong to, and what types of things I do on the internet (like blogging), the best thing I did to help them reach acceptance was to continue to be successful in all other areas of my life and be myself – the rest of the work fell on them to wrestle internally with their moral beliefs, religious upbringing, and parental love.
In the end, my parents were quite warm with my friend and did their best to reassure him that he need not feel ashamed of his sexual orientation and that his parents may eventually come around.  My mom even offered to connect with his parents, but further down the road when they have had more time to digest the news.  Seven years ago, my father reacted as though I had died and my mother had to deal with her worst nightmares as a parent come true (she said she knew since I was five that I was "different" than other boys).  There were regular fights and silences that shrouded some topics.  Today, my father regularly sends me emails about the debates over Don't Ask, Don't Tell and same-sex marriage and my mother has looked into getting involved with Parents and Friends of Lesbians and Gays (P-FLAG).
From this event, I feel confident to say that, with time, families can become accepting of their LGBT family members.  I should admit that I am not out to a lot of extended family, either because of their age or because we are not all that close.  And, I see this as part of the reason why I do not see coming out as the end all, be all for everyone.  I do not necessarily think that we should expect everyone to be publicly out, as the consequences for doing so are too great for some people.  We as LGBT people are not a monolithic mass; some of us have to worry about the loss of our racial and ethnic communities, or being banished from our places of worship, or being disowned by our families.  Although, in one of my ideal worlds we would not need to come out, at least not anymore than heterosexuals, another of my ideal worlds is not needing to have specific labels for people based upon their preferences, tastes, and likes.  In the mean time, it is important and powerful for those who can afford to to come out given the impact contact with LGBT people has on supporting LGBT rights, but we also should be careful to avoid setting that standard for all LGBT people as our experiences and backgrounds vary.
There, for once I wrote a post that wasn't all negative!